Latest Daihatsu dealer has an unusual claim to fame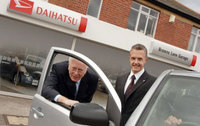 Daihatsu's latest dealer has an unusual claim to fame – he was actually born on the premises 74 years ago.
In addition, Browns Lane Garage, Coventry had an historic automotive neighbour until recently - the Jaguar car plant, now demolished.
Dealer Principal, John Manning, explained: "The site originally included a butcher's and also a grocer's shop and I was born above the grocer's 74 years ago.
"The family eventually turned the shops into a car showroom and I have been here ever since. This has helped us build up a loyal band of customers who have tended to stay with us over the years – very useful in these challenging times."
Browns Lane Garage is a stand-alone Daihatsu site with a staff of 10 who specialise exclusively in the Japanese compact car marque.
Despite only opening one month ago, sales have been brisk with 11 new cars and four registered demonstrators.
Meanwhile, Daihatsu aims to have appointed 20 new dealers in 2008 and currently boasts 105 UK showrooms.
Paul Hegarty, Operations Director, Daihatsu Vehicle Distributors Limited, said: "This is a very welcome addition to our ever-expanding network and we are delighted that Browns Lane has got off to such a flying start."
He added: "With such enthusiastic and friendly staff and a strong and loyal customer base I am sure this initial success will be maintained."
Daihatsu's new five-year warranty introduced earlier this year is proving a strong attraction to the brand with sales up more than 4 per cent year-to-date.