Sarah scores Sirion hat trick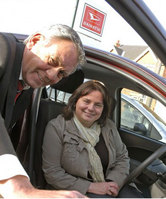 Daihatsu dealer, Halls of Ruddington, has found an irrepressible Sirion enthusiast in Sarah Wells of Nottingham, who has put three through their paces in as many years.
Following a change of job and a lengthy commute to Suffolk, the environmentally-conscious Learning and Skills Development Manager was guilt-ridden at the prospect of buying a second family car. Opting for the Sirion took the stress out of this decision, with its low emission figures, fuel economy of 56.5 mpg, road tax costing just £35 and a five-year-warranty.
Favouring the 1.0 SE variant, she has found the car to strike a balance between stop/start city driving and the rigours of the motorway, averaging 22,000 miles per year. So far, Sarah has sampled the red, mint blue and now maroon mica colours, believing that she is now driving the right colour car for her.
In these financially testing times the Daihatsu dealer network thrives on its personal approach, helping customers find exactly the right car for them, and Halls of Ruddington is no different.
The family-owned business first opened its doors in 1925, and together with its enthusiastic and friendly staff has built up a loyal customer base.
Sarah said: "The staff at Halls have always been really welcoming and efficient: I would recommend anyone to go along and see them. They remember their customers and are always pleased to see them – not just as a potential sale! In fact they are so good that each time I return for my 18,000-mile service I've left with yet another new Sirion!"
She added: "Would I buy a fourth Sirion? Yes I would, but perhaps its time to consider another model in the range! My partner would like a Copen, but also looks quite longingly at the Terios. Looks like it will certainly be a Daihatsu."