Have your Shirley Valentine moment in St Lucia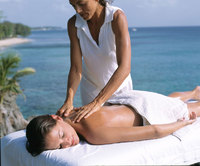 A Saint Lucian resort is welcoming guests to have their Shirley Valentine moment in the Caribbean this year, after a recent survey highlighted that a third of Britons are choosing to holiday alone.
Windjammer Landing Villa Beach Resort, in the North of the island, is already a destination for couples, honeymooners and families, but with LV= travel insurance reporting that the number of holidaymakers going it alone has doubled over the past two years, the resort is keen to show the solo traveller what it has to offer.
With 16% of respondents stating that they holidayed alone because they enjoyed their own company, Windjammer Landing's 1,500 ft of white sandy beaches and 60 acres of exotic landscape, offers holidaymakers the chance to relax, read a book and enjoy some well deserved 'me' time. This could be a particular draw for the 41% of respondents who were married and the 27% travelling alone but in a relationship.
The award-winning resort is celebrating its 21st birthday this year and has undergone a $500 million refurbishment programme to commemorate the occasion. This means all customers can enjoy the 'Forever 21' rejuvenation package, offering a shopping trip, sunset cruise and themed cocktails when staying seven nights or more.
For the solo traveller seeking relaxation, the resort's Serenity Spa offers body wraps, massages and in-villa treatments giving guests a chance to unwind undisturbed. Dinner can then be taken in one of the island's five restaurants or visitors can opt for in-room dining.
Those wishing to be alone but amongst people will feel at ease at the nearby designer shopping village in Rodney Bay, where they can take their time browsing the boutiques.
The resort offers the budding adventurer, scuba diving, rainforest excursions, water sports and horseback riding. A personal tour guide is also on hand to make sure that nothing is missed.
Travellers wishing to meet new people should head to the resort's main bar for drinks and regular evening entertainment. Alternatively, tourists can take one of the island cruises enjoying the sights and cocktails available on hand.
Mark Ozawa, the newly appointed managing director of Windjammer Landing Villa Beach Resort, said: "Windjammer is a favourite destination for all types of holiday makers and we are delighted to welcome those wishing to holiday alone. Our staff are very friendly and we have a range of great activities that everyone can enjoy. Our suites are designed for comfort and relaxation, offering guests a sanctuary from their busy lives."
Caribtours (caribtours.co.uk) offers seven nights at Windjammer Landing from £1,892 per person (based on one person) staying in an Anthurium Lily Suite on Room Only. Price includes return scheduled flights with British Airways and private transfers.
Price also includes a US$50 resort credit per room per night.
The resort, voted Saint Lucia's Leading Hotel by the World Travel Awards boasts 161 Mediterranean style villas and suites with views of the Caribbean Sea.
For more information, visit: windjammer-landing.com