X-ray vision gives Volkswagen a virtual training advantage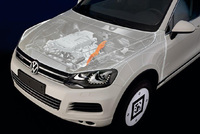 Volkswagen is expanding the use of an innovative technique designed to give service personnel a new edge – by offering them an x-ray view 'inside' the car.
The company is using so-called Augmented Reality – the deliberate expansion of the real world using digital projections – to train Volkswagen teams worldwide to the highest levels, and to inform them about the development and technical innovations of new models.
The principle of Augmented Reality is a video-based positioning programme which determines the correct position of the image projector and the viewer in relation to the vehicle. Computer-generated information can then be precisely embedded into the viewer's real-world environment via the projector image.
'Three-dimensional design data is projected onto the surfaces of a production vehicle, in the correct position and in perspective even from different viewing angles. This creates a kind of 'virtual x-ray vision' for the viewer, which enables them to see otherwise hidden components and structures inside the vehicle,' explained Prof. Jürgen Leohold, Head of Volkswagen Group Research. In addition, it is also possible to superimpose individual components and component designations or to project prepared animations onto the vehicle.
'For the first time, at the Wolfsburg Service Academy, this technology has been applied to the Touareg Hybrid in the training sessions for importer instructors. The development and functionality of the innovative hybrid technology could be explained with a depth that would not have been possible using conventional means. The international participants' response was thoroughly positive,' commented Michael Horn, Head of Volkswagen Aftersales. Since then, the system has also been successfully tested for Service Training on the new Sharan, for example to show the operational set-up of the electric sliding doors.
The projection-based Augmented Reality system was developed by Volkswagen Group Research together with the Volkswagen Service Academy. In the future, there will also be further consistent use of this technology in international training in Wolfsburg, saving time and money. Augmented Reality will also be applied in vehicle development, from production planning right through to marketing.