Ferrari awards Best Partner status to BWI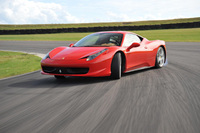 BWI Group, the Tier One supplier of chassis technologies, has been awarded Ferrari's prestigious Best Partner status. Presented at the Podio Ferrari 2010 ceremony in Maranello, the award recognises the outstanding contribution that BWI has made over the last seven years, most recently with the supply of its MagneRide suspension system for the acclaimed Ferrari 458.
Ferrari CEO, Amedeo Felisa, says, "One of the defining strengths of a great company is the ability to choose the right partners: those with the vision and technology to embrace our core values and safeguard the DNA of our products. These awards express our appreciation to those suppliers who have achieved this."
BWI supplies its innovative MagneRide suspension to the Ferrari 458 Italia.MagneRide virtually eliminates the traditional need for a ride/handling compromise. Using patented damper units containing a controllable magneto-rheological fluid, the system offers increased tuning capability and response speed over valve-controlled suspension systems. Drivers benefit from more precise turn-in feel, improved high speed control and superior road isolation, resulting in increased driver enjoyment and comfort.
"This award from Ferrari is a tremendous complement to the expertise and dedication of the BWI team," says Dan Warrell, the company's Vice President of chassis systems. "Even for seasoned professionals, it's thrilling to work on such exciting applications and so rewarding to be part of the final success."
For the new 458 Italia, BWI Group and Ferrari engineers worked together on the application engineering of the MagneRide system to achieve the highest possible performance. The resulting combination of pin-sharp handling, comfort and chassis refinement has been widely acclaimed.
MagneRide has a wide range of applications. Apart from supercars, the technology is used on premium SUVs and cars across four continents. BWI's product range also includes high-value damper systems, active roll control systems, braking systems and other suspension components.
For more information about BWI Group, visit BWIgroup.com.