Retreat to a one-off mountain place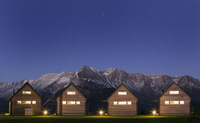 Oneoffplaces.co.uk, the website for unique and different holiday rentals, is delighted to announce the launch onto the UK market of one of the most stunning holiday propositions available.
The mountain retreat at Livek, Slovenia is situated by the Italian border above the Soca valley and consists of four chalets with wellness centre, swimming pool and wine cellar. Here modern and the traditional designs meet, exterior mingles with interior in a unique experience. Staying here is a privilege inspired by the natural landscape: the chalets are surrounded by meadows, pastures and woods and flanked by mountains up to 2000m high, whilst to the west there is a view to the Adriatic sea (the gulf next to Venice).
Sleeping two in refined luxurious self-catering accommodation, each chalet boasts floor to ceiling windows to maximise the view of the mountains, and the variety of weather conditions change this view daily. As one visitor said: "We experienced sleeping in a cloud, sleeping in a rainy cloud, sleeping in a perfect sunny day and sleeping in a fresh morning. You want to know how our life looks from Heaven? Then try Nebesa".
If the view is not enough entertainment in itself, then visitors can swim in the pool shared between the four chalets on site, or indulge in canoeing or fishing in the stunning Soca river, known as one of the most beautiful rivers in Europe (just ten minutes drive away). The four chalets are idyllic for those who like privacy, silence and a relaxed atmosphere; as well as those who search for outdoor activity.
Olly Symonds, co-founder and Director of oneoffplaces.co.uk, said of the new additions to the portfolio; "The Livek chalets are a rare find, and perfectly illustrate what we strive for at One Off Places - completely individual properties, all of which have been vetted to ensure they offer the discerning traveller something totally different".
For more information on this and the other unique properties in the collection, including a merchants house in Morocco, a colonial villa in Sri Lanka; a glasshouse in New Zealand; a shepherds cottage in Spain; a windmill in the Azores and a castle in Austria; visit: oneoffplaces.co.uk