Christmas TV despair drives Brits to online gambling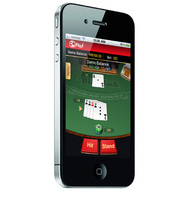 The number of people gambling online over Christmas looks set to rocket as the TV networks schedule nothing but repeats, repeats, repeats.
That's according to the UK's premier online casino 32Red, who says it witnessed a peak in online accesses on Christmas Day 2009. This year 32Red expects the corresponding figure to be even higher after the introduction of its new real-money Blackjack App for the iPhone, the first to be approved by Apple.
When the major channels announced their TV schedules for Christmas last week, the nation let out a collective sigh at the prospect of having to watch the same-old films and TV soaps.
There was anger from MPs last year at the 750 hours of repeats over the Christmas period, and this year's unprecedented 860 hours of repeats looks set to prompt a similar backlash.
"We've seen a surge in mobile activity generally and during last year's holiday period this peaked on Christmas Day," says Ed Ware, Chief Executive, 32Red plc.
"We'd actually wondered if there would be a drop in the number of players while people tucked into their turkeys and gathered round the TV for the family gathering but the opposite happened."
"We can only think people are getting fed up with watching TV reruns and choose to play our mobile casino instead. I guess the chance of winning a hand of blackjack, or even our Mega Moolah mobile slot with its £1million jackpot is more appealing than seeing Dell Boy again!"
Last year, BBC1 viewers experienced television déjà vu as Nigella's Christmas Kitchen was served up again, as was Only Fools and Horses, a staple feature of Christmas ever since the 1980s. ITV One alone broadcast more than 117 hours of classics and old shows during the Christmas fortnight.
This year viewers are being treated yet again to perennial favourites like Charlie and the Chocolate Factory, Mary Poppins and Oliver Twist, along with reruns of Murder She Wrote, Agatha Christie's Poirot and Are you Being Served?
Despite the recession, the sales of laptops, smartphones and this year's 'must-have' goody, the iPad, are rocketing.
People are increasingly using their devices for other forms of entertainment such as online casino games, poker, bingo, rummy and betting - and they're winning big with the help of new technology developed by 32Red.
"Our iPhone App is a huge success. Since its launch on 12 November we've already paid out over £100,000. With more and more players downloading the app each day, it won't be long before we hit the £1million mark," says 32Red's head of marketing, Mark Quayle.
"We take pride in guaranteeing fast and efficient pay-outs and with online gambling becoming a popular option to Play it Again Sam TV on Christmas Day, we expect to have even bigger payouts than usual."
32Red's record of fast and accurate payouts led it to being named Casino of the Year six times and Casino of the Decade by the industry watchdog Casinomeister.
The 32Red Blackjack app can be downloaded free from iTunes. Anyone opening up a new account will have their deposit doubled by 32Red up to a maximum of £50.
For more information, visit 32red.com.