Fiat Doblo Cargo named What Van? Light Van of the Year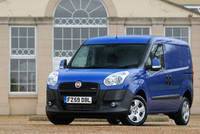 It's not even a year old, but Fiat Professional's load-carrying Doblo Cargo is stacking up the awards – the latest being What Van? magazine's 2011 Light Van of the Year.
The popular commercial vehicle, launched in March this year, scooped the important light van prize, after impressing What Van? judging experts with its blend of versatility, practicality, comfort and styling.
"Fiat's Doblo Cargo made a real impression when it was launched earlier in 2010, and it's a worthy winner of the What Van? 2011 Light Van of the Year award," says What Van? editor Paul Barker. "Smartly styled, efficient, practical and comfortable, theDoblo Cargo was a natural choice for our Light Van category winner."
"Doblo Cargo has been a wonderful success for us right from the start," says Gerry Clarke, director, Fiat Professional UK. "It is already International Van of the Year and Fleet Van of the Year, and this latest honour from What Van? makes it a perfect end to the year for the new range.
"Our customers have told us how much they like the Doblo Cargo, and it's clear that commercial vehicle experts do too. We're delighted with this award."
Available with a choice of four low emissions, Euro 4 and 5-specification engines, the new Doblo comes in seven different forms – Cargo, Cargo Maxi, Cargo SX, Cargo Maxi SX, Combi, Combi Maxi and Platform Cab – to offer something for a wide spectrum of van users.
Start&Stop – which stops the engine automatically whenever traffic conditions bring the van to a complete halt, and restarts it when the driver wants to move off again – is fitted on all Euro 5 versions to give up to 15 per cent fuel savings, and the vehicle offers a low CO2 figure of just 126g/km.
The engine line-up comprises a 1.4-litre 16v 95bhp petrol unit and three MultiJet 16v diesels – 1.3 (90bhp), 1.6 (105bhp), and 2.0 (135bhp). Prices start at £11,305 (exc. VAT) for the Doblo Cargo 1.4 16v Petrol.