French property in Alpes Maritimes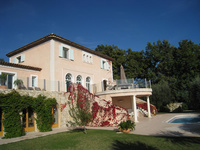 Beautiful villa with sea view in Chateauneuf, a dream on the French Riviera, perfect location for some of the the best schools in France or the finest sailing ports on the Cote d Azur. Skiing is 60 minutes away! The best value for money in Beautiful, peaceful Chateauneuf, Opio, Grasse, vibrant-Valbonne all only a few minutes drive away. All facilities are a short walk away. 4 Bedrooms all en suite, substantual split level lounge, Spa pool, extensive gardens, large terraces.
This villa is located 18 km from Cannes, 30 km from Nice and 7 km from Valbonne.
Around the house: The pretty, Provencale gated entrance leads to over 3,500 M² of mature fertile garden, planted with an annual colourful mix of low maintenance shrubs, plants and trees, suitably automatically irrigated - all over 3 levels.4 car garage is contained within the house, ample outside parking.
The pool is also a spa with 3 jet swim-machine. Above at house level are large terraces giving breath-taking views, surrounded by a security glazed screen. This same terrace has a covered dining area which leads to the breakfast room. Continue to the rear of the house to find more lawn with mature garden and young fruit bearing citrus trees.
This amazing house is on the market for €1,450,000.
For more information, visit frenchestateagents.com.