Infiniti reaches Scotland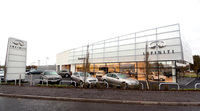 The UK roll-out of Infiniti, the Japanese performance automotive brand, is gathering pace with the opening of Infiniti Centre Glasgow, the country's fourth Centre and the first in Scotland.
Contemporary, luxurious and offering the highest standards of customer care, Infiniti Centre Glasgow joins Centres in central London, Reading and Birmingham. It extends Infiniti's reach to most of the UK's major population centres when the marque's unique customer service pledge – free car pick up and delivery within a 150 mile radius – is taken into account.
Infiniti Centre Glasgow, two minutes off the M8 at Braehead near to Glasgow Airport, fulfils all the requirements that have made Infiniti's unique retail environment such a worldwide success. A new build, the Centre uses stone, glass, light and space to create a relaxed and welcoming atmosphere at odds with most people's idea of a car dealership. With its lobby/lounge/display layout and emphasis on top quality décor and sustainable materials, the latest Infiniti Centre is more in the style of a top boutique hotel than a car showroom.
The Centre is operated by Infiniti retail partner MPA Ltd which also operates the recently opened Infiniti Centre Birmingham and has two more Centres under construction, in Stockport and Leeds and both due to open in 2011.
Jason Blane, former manager of a Scottish Toyota centre, has been appointed to run Infiniti Centre Glasgow. Jason, who has worked in the Scottish retail car industry for 14 years, is additionally responsible for all Infiniti sales throughout Scotland. Corporate sales specialist Steve Boland is appointed Sales and Development Consultant at the Glasgow Centre.
The Scottish opening ties in with the arrival of the M30d, Infiniti's first diesel-powered performance saloon which recently made its UK debut at the MPH Show. Other models to take their place behind the new Centre's glass wall over the coming weeks are the equally new M37 petrol V6 saloon, the G line of Coupé, Convertible and Saloon, and, in both V6 petrol and V6 diesel forms, the EX coupe-crossover and FX luxury SUV, the FX additionally available in V8 form.
As well as a six-car display area the Centre boasts state-of-the-art workshop facilities, including an alignment bay and the latest wheel balancing equipment for wheels up to 21 inches.
"We are happy to be able to make our workshop facilities open to owners of all premium brands," said MPA's Bill McMaster. "Given the specialist nature of the equipment we have installed we expect the workshop to be busy."
In a high profile location close to Porsche and Audi dealerships, Infiniti Centre Glasgow is at 4 Braile Crescent, Braehead, Renfrew, PA4 OZJ. It is just two minutes off the M8 motorway at Braehead, about two miles from Glasgow Airport. More details are available from infiniti.co.uk .
MPA is looking at adding further Centres in South and East London, Cambridge, Bristol, Newcastle and Nottingham.
Infiniti's other retail partner, Rymco UK, already operates Centres in Reading, Berkshire, and at 77 Piccadilly, and plans to open two more – in Chiswick and Hatfield – in 2011.