Traditional renovations in grounds of majestic French Chateau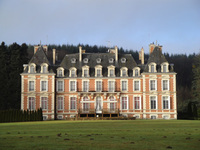 Traditional properties in France are incredibly sought after so it's no surprise that the unique investment opportunity to purchase traditional converted properties in the grounds of a stunning Chateau are proving so popular that the UK based developer has released a handful of additional properties in the first phase to keep up with the demand.
The handful of properties recently released are available at a discounted price for purchasers willing to reserve this side of Christmas. Each property will be quite unique as they occupy traditional stone built buildings complete with curious character features such as beamed ceilings and arched deep sill windows.
Not only do these properties represent stunning value they also come complete with 150% buy-back, meaning the developer guarantees to buy the property back (should the buyer wish) at 150% profit. Other offers include an £85,000 discount, 5% cashback on deposit and 50% finance. These offers are only available until 24th December.
One bedroom apartments start at £110,000 with four bedrooms available at £220,000; prices however do rise on 24th December so if buyers are interested they should reserve their chosen property before this date to secure the heavily discounted price.
For more information, visit bandbw.co.uk.