Chevrolet Volt eligible for Plug-in Grant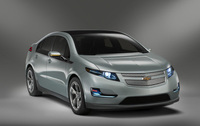 Chevrolet has welcomed the UK Government's commitment to a £5,000 grant for customers buying plug-in electric cars.
The manufacturer behind the world's first extended-range electric vehicle, which cleverly combines pure electric propulsion with an on-board range-extending generator in its innovative 'Voltec' drivetrain, is delighted at the Government's recognition of the car's zero tailpipe emission capability.
Chevrolet UK Managing Director, Mark Terry, said: "we are extremely pleased that the Government has accepted the Volt within its grant programme - as the first car in the world of its type, it means we can really hit the ground running when it arrives in the UK. Volt is an incredible car that has already changed the game in its home market - with its innovative range-extender motor, it's the first no-compromise electric car that completely alleviates the range anxiety felt by users of pure electric vehicles, yet has the capacity to operate at all times with zero tailpipe emissions"
Unlike most plug-in electric cars, the Volt has an overall range in excess of 300 miles, up to 50 of which can be covered on pure electric alone. Once the battery reaches a limited state of discharge, a petrol-powered generator kicks in to sustain battery charge until the car can be plugged in and recharged. Even with the motor running, the electric motor continues to drive the wheels, making it significantly different to hybrid electric vehicles.
Research by GM in Europe shows that over 80 per cent of drivers will be able to use the Volt for their daily commute without having to use a drop of petrol, or create any tailpipe emissions. But unlike other plug-in electric cars, the Volt can still be driven long distances, or operate in areas where it is impossible to plug the battery in and recharge it.
"No other vehicle answers the electric car conundrum as well as one equipped with Voltec," added Mr Terry. "It's an electric car you can use without having to make any significant changes to your lifestyle, and we believe that's the key to making customers accept such innovative technology."
The Volt is due to arrive in the UK in Spring 2012. Full specifications and prices will be announced nearer to its official on-sale date.