Blind spot warning system for Infiniti EX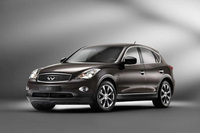 Already one of the most safety conscious 4x4s available, Infiniti's sporting coupé crossover, the EX, takes a further step ahead of rivals with a new Blind Spot Warning (BSW) system for 2011. With both audible and visual signals to alert the driver to an adjacent vehicle in the blind spot area, this valuable real-world aid further reinforces an unparalleled list of safety technologies all fitted as standard to the top-selling EX GT Premium, in either high performance petrol or diesel forms.
Blind Spot Warning joins other innovative technologies such as Intelligent Cruise Control, Intelligent Brake Assist, Forward Collision Warning and Lane Departure Prevention to make Infiniti's anti-collision Dynamic Safety Shield more complete than ever.
For the first time all the safety elements, including Lane Departure Prevention which made its European SUV debut in the EX30d in summer 2010, will be standard on GT Premium versions of both V6 petrol and V6 diesel models, echoing the latest systems fitted to Infiniti's just-launched executive saloon, the M.
Many of the features of the Dynamic Safety Shield are unavailable in even latest-generation SUV rivals.
Dynamic Safety Shield provides a "bubble" of protection all around the vehicle and works to avert risk at three levels: by informing the driver of potential hazards, by intervening to help avoid a collision, and by lessening the effects of a crash should one occur.
The new Blind Spot system helps drivers by taking some of the risk out of lane-change manoeuvres. Each time a vehicle enters the EX's blind spot area amber lights at the base of the door mirrors start to blink. If the driver activates the indicator, showing an intention to change lanes, the lights are supplemented by a warning sound – further indication of a potentially dangerous situation.
In all other ways the 2011 version of the sports all-wheel drive crossover is just as fully equipped, potent and rewarding to drive as its predecessor – but with slightly less orange in the dashboard display. In the only design change for 2011, the needles of the twin dials and the graphics of the trip information screen now show white in a move which enhances quality, improves legibility and harmonizes interior colours. It's a small change but an important one. Well, it's important to a company as fanatical about attention to detail as Infiniti.
EX prices have been adjusted – only commensurate with the extra features. The new price list, published today, takes effect from January 4 2011 and includes VAT at 20 per cent.
On the road prices for the 2011 EX models are as follows:
EX30d £36,741
EX37 £37,047

EX30d GT £38,099
EX37 GT £38,405

EX30d GT Premium £42,547
EX37 GT Premium £42,853
GT Premium models represent exceptional value given that they feature the broadest range of high technology safety, comfort and convenience systems ever included as standard in a compact SUV. As well as most elements of the Dynamic Safety Shield, including the new Blind Spot Warning, every EX GT Premium model comes with leather trim, heated and electrically adjustable memory seats, Connectiviti+ hard disk drive 3D navigation and music storage with touch screen and voice recognition, Around View Monitor, Xenon cornering headlights, parking sensors, Scratch-shield paint, 18-inch alloy wheels, Bluetooth mobile connectivity, dual zone climate control and electrically adjustable steering column.
The 2011 EX range is available from Infiniti Centres in Reading, Birmingham, Glasgow and at 77 Piccadilly in London from January.