Chevrolet wraps up for Christmas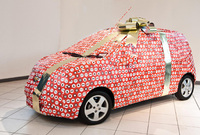 We will spend an average total of 117.5 million hours and £1.65 billion wrapping our Christmas presents this year as a nation. This amounts to over 6.3 days in a single person's lifetime and at a cost of up to £2,123.
The research, conducted by car-maker Chevrolet, found that we spend an average of 1.9 hours gift -wrapping Christmas presents each year, costing us approximately £26.70 annually. In fact, women spend twice as much time and money as men on wrapping gifts.
The average man spends as little as £15.50 and 75 minutes each year compared to women who spend £33.50 and 2.3 hours patiently dressing their presents. As many as one in five women (19 per cent) admit to spending as much as half a day wrapping presents compared to only one in twenty men (5 per cent).
There is however, a scrooge-like 10 per cent of Brits who revealed that they do not bother wrapping presents at all as it's too expensive or too much effort.
Chevrolet conducted the research to launch their free gift wrapping service on new Chevrolet Sparks ordered as Christmas presents this year. A team of expert gift wrappers will be on hand to wrap the Sparks if they are ordered as a present for a loved one this month. The initiative is being offered by Chevrolet across the country.
Ninety nine rolls of adhesive tape and forty six square metres of limited edition festive Chevrolet wrapping paper were used to cover the car.
Les Turton of Chevrolet comments: "Everyone loves unwrapping presents. It's one of the highlights that all of the family can enjoy on Christmas Day. For those lucky people who will receive a Chevrolet Spark for Christmas we wanted to do something a bit special this year to make the present opening ritual a bit more fun. With so much time being spent wrapping and hiding gifts under the tree, we wanted to take the hard work away and provide a bespoke service that would make our customers smile."
Those who want to take advantage of the Spark gift wrapping service people are encouraged to pre-book through the Chevrolet press office by 12pm on Tuesday 21st December at Mischief PR. Please contact Chevrolet[at]mischiefpr.com or call 0207 100 9999 for more details.