Get F1 fit for the 2011 season with Porsche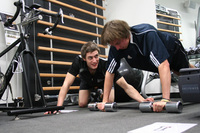 Launching the Porsche Human Performance 2011 calendar on 29 January is the 'Get Race Fit' programme, a half-day coaching session, which takes the principles of motorsport fitness and combines them with expert advice, this year from professionals including F1 star Mark Webber and MotoGP rider Bradley Smith. Limited to just 40 places and costing £195 per person, the session aims to create a programme preparing motorsport participants at every level, for the forthcoming season.
Each 'Get Race Fit' session teaches techniques for motorsport specific strength and conditioning training, tests vision and reaction abilities using Batak, Saccadic fixator and Wave scan technology and also includes a full body composition analysis. There will be a competitive element to some of the activities and the top performers will win a hot lap with Mark Webber on the Porsche Experience Centre tracks.
The dedicated team of experts at the Porsche Human Performance Centre, Silverstone, have spent 2010 analysing every facet of human performance that leads great drivers to world class standards. Armed with this knowledge, the team have fine-tuned bespoke fitness programmes to propel motorsport professionals from MotoGP, BTCC and Formula One into championship stardom; and again for 2011 this data will be shared and applied to a wide range of Porsche fitness assessments and courses.
Andy Blow, Director of the Porsche Human Performance Centre said, "The physical preparation required for competitive motorsport can provide a great foundation for general fitness. From the activities carried out at the centre we can demonstrate the physical division between motorsports stars and the average person.
"For example, ex-Porsche Carrera Cup GB winner Barry Horne holds the joint world record on the Batak machine of 122 hits in one minute, doubling that of an average person; whilst Formula One star Mark Webber holds the highest grip strength of 67kgf, compared to just 45-50kgf for an average man. Using the principles that underpin this level of fitness we create wellness assessments and bespoke goal orientated programmes for athletes of every discipline wishing to beat their 'Personal Best'."
Participants at the one-day session in January can take their programme further by joining the "Fit to Race" training weekend in March. Again, taking the principles of motorsport training, participants are tested to their limits in a 'boot camp' environment by the Porsche Human Performance Team. Although popular with motorsport participants, the course is open to anyone looking to keep fit, or seeking inspiration for a training routine.
The Porsche Human Performance Centre also offers a number of services bespoke to a sports science laboratory. Whether analysing an athlete's performance in hot weather conditions using the dedicated heat chamber, or testing peripheral vision and reaction abilities using top of the range equipment, the Centre's expert staff offer a number of services to improve the wellness of all clients.