Mercedes-Benz sponsors GQ's Best Dressed List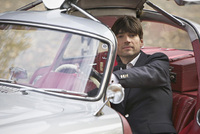 Mercedes-Benz is the proud sponsor of the annual GQ's Best-Dressed List for 2011, published on 6 January.
GQ's Best-Dressed List 2011 recognises the most sartorially savvy gentlemen in the public eye. The 36-page supplement combines fashion instinct, expert judgement and critical appreciation of the UK's smartest style leaders.
Robert Johnston, Editor of GQ's Best-Dressed List, said: "This year's list is brought to you in association with Mercedes-Benz, the maker of some of the world's most stylish machines and no stranger to the world of hi-octane glamour. Who better to get you in the right gear?"
Gary Savage, Managing Director, Mercedes-Benz Cars, added: "Style and exquisite design are at the heart of the Mercedes-Benz brand, which is why we're passionate about people who understand, create and define timeless elegance."
Savage continued: "I'm delighted that we have been able to work so closely with GQ to produce this nationally recognised list. GQ's brand values, the readership and the high production values of the magazine are the perfect fit for Mercedes-Benz customers."
Style icon and Britpop maverick, Alex James, was photographed for the Best-Dressed List at Mercedes-Benz World, with the new SLS AMG and the iconic 300SL Gullwing from the 1950s. Top GQ photographer Jake Walters was there to capture the action as Alex selected his attire and accessories and then got up close and personal with two generations of the Gullwing on the track at Brooklands.
Watch exclusive behind the scenes footage taken at this unique Mercedes-Benz World session at mercedes-benz.co.uk/gq