Enjoy an affordable holiday in the Caribbean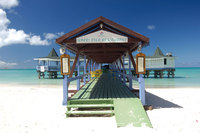 'Blue Monday', the third 'working' Monday in January is said to be the most depressing day of the year*. To help banish the blues and offer guests a day filled with sunshine, rex resorts has launched a massive winter 2011 sale with nearly half price savings.
Situated on the shores of five beautiful Caribbean islands, the seven properties of rex resorts offer a taste of paradise, and guests can now enjoy up to 45% off direct bookings at rexresorts.com.
Bookings to be made by 31st January 2011 to take advantage of this massive winter/spring sale, staying at some of the most affordable but well presented resorts in the Caribbean.
Major airlines fly to the five islands including Virgin Atlantic, British Airways and Monarch Airlines. Visit their websites for best flight deals to the Caribbean.
* Blue Monday is a name given to a date stated to be the most depressing day of the year. This date was published in a press release under the name of Dr Cliff Arnall, a researcher at Cardiff University. The original date of "Blue Monday" was actually mathematically calculated. The formula for the most depressing day of the year takes into account six factors: weather conditions (Gloomy old January and its typical lack of sunshine), debt level and our ability to pay that debt, time elapsed since Christmas, time elapsed since failing our New Year's resolutions, our general seasonal motivational levels, and our need to take action and to have something to look forward to. It was calculated that most of these events would come into play by the third week or 21st day within the month of January.