Ssangyong Korando makes its pitch to caravanners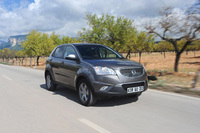 The all new SsangYong Korando crossover will be seen in the North for the first time at Caravan and Motorhome 2011, Manchester Central, in the heart of Manchester, 20 - 23 January. It will appear alongside a Rimor New Polaris 450 Veloce, a compact, light weight family tourer.
With a full two tonne towing capacity, the Korando is one of the best tow-cars in its class, but it also marks a number of 'firsts'. As a crossover, the new car - which goes on sale in the UK shortly - allows SsangYong to expand from its core SUV (sport utility vehicle) model range. With the practicality of a 4x4/SUV and accessibility of a family hatchback it gives the company entry to a major new and growing market sector.
Designed in Europe by Giorgetto Giugiaro, the new car offers a highly contemporary look while featuring a monocoque construction, another first for the marque which has traditionally utilised ladder-rack chassis architecture.
SsangYong's hallmark competitive pricing and comprehensive specification will pitch this fourth generation Korando against cars such as the Ford Kuga, Hyundai ix35, Kia Sportage, Nissan Qashqai and Volkswagen Tiguan.
There will be five models from launch in the UK, with the option of two-wheel drive, all-wheel drive,
6-speed manual and automatic, and two trim levels.
Korando range
Two-wheel drive, manual
Two-wheel drive, manual - High Line
Two-wheel drive, automatic - High Line
All-wheel drive, manual - High Line
All-wheel drive, automatic - High Line
Power is from a new Euro5 2.0 litre diesel engine, which delivers excellent fuel economy and impressive 157g/km CO2 emissions. Coming below the critical 160g/km level permits a 25% tax reduction, especially important for the user/chooser, a key sector of the fleet market. This brand new 175PS diesel engine makes Korando one of the most powerful in its class.
A comprehensive five-year or 250,000 mile warranty, excellent fuel economy and low running costs will also set a new benchmark of affordability in the rapidly growing compact crossover segment.
Prices will be announced when the car goes on sale next month.
2011 model year
Korando joins the current model line-up of Kyron, Rexton and Rodius, already regarded as one of the best towcar ranges. See full towing specs attached. Minor cosmetic enhancements have been made for the 2011 model year which are designed to represent even greater value for money.
On the road prices:
Kyron £14,995 - £22,495
Rexton £16,995 - £20,995
Rodius £14,995 - £19,995
Rimor New Polaris 450 Veloce
The caravan displayed on the stand will be a 2011 model Rimor New Polaris 450 Veloce. Compact and light weight, this family tourer features fixed rear bunks and an integral 'garage' for carrying children's bikes easily and securely. For 2011 all Rimor tourers sport Satellite TV receivers as standard equipment, and all orders taken at the show will be at the pre 20% VAT increase price of £15,995 on the road.