Get ready to party in Rio with Tucan Travel!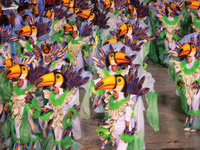 It may still be over a month away, but Rio Carnival really is the mother of all street parties and there are just a few places left to experience this extravaganza with Tucan Travel in March.
As South American adventure experts, Tucan Travel has been operating tours to include all the magic that Brazil's famous street party has to offer since the company began.
Today, the adventure travel operator has four of its six tour styles all converging on Rio de Janeiro each year in time for Carnival. And 2011 will be the biggest yet.
So big is Carnival, that Tucan Travel schedules all the tours that visit Rio to be in the city over that weekend. This year the tour operator will have groups from nearly all styles of its overland adventure tours staying in a range of hotel classes, both near the location of Carnival and over by the world-renowned Copacabana Beach.
While many travellers will experience the festivities as part of a longer tour, the adventure company also offers great independent packages that allow people to take part in Carnival with Tucan Travel without having to be on one of the longer tours.
Because Carnival is such a popular event on the adventure traveller's calendar, this year Tucan Travel's global general manager, Bec Whiffin, will be flying out to Rio from London to oversee the event.
"Rio is a fabulous party for our clients. It really is like no other street party," Whiffin said.
"For us, it's logistically massive. Nearly all our tour styles, many of our custom-built trucks operating in South America and some 500 clients will be converging on Rio that weekend. There is a lot of work in coordinating all these tours, but what it means is that with everything taken care of, clients can concentrate on the serious business of partying - Carnival-style."
This year Rio Carnival takes place from Friday 4 March to Tuesday 8 March. Tucan Travel still has independent packages available as well as a limited number of spaces on tours that include Carnival.
Along with transport and accommodation, Tucan Travel's Rio Carnival packages include the opportunity to get up close to the action at Carnival with specially-allocated tickets available to enter the Sambadrome - where the competing samba schools perform to the judges and crowds - as well as inside information from our tour leaders about the best of the many periphery parties taking place in Rio that weekend.
Tucan Travel is a specialist adventure tour operator with hundreds of high quality, affordable and exciting adventures to worldwide destinations. Choose from over 470 group tours, Independent Travel packages and Expedition Cruises to Europe, the Middle East & North Africa, Asia & Russia, East & Southern Africa, Latin America and Antarctica.
For more information, visit: tucantravel.com