Celebrating 20 years of Slovenian independence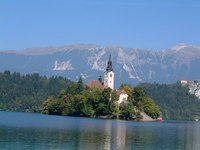 Slovenia, one of Europe's smallest nations, boasts an extraordinary diversity of landscapes in a relatively small territory. In 2011 the Republic of Slovenia will be celebrating 20 years since its declaration of national independence.
Pride in the achievements of independent Slovenia will also be reflected during 2011 in the tourism sector: special events, adoption of new visions for development and, no less importantly, fun and socialising with friends of Slovenia from all over the world (special packages available on slovenia.info/homecoming). And a very special part in these gatherings will be played by Slovenian expatriates and their descendants. The biggest such gathering in Slovenian territory is planned for early July. *
It's the only country in Europe that has the Alps, the Mediterranean, the Pannonian Plain and the Karst. Easy access to this diversity is a particular advantage: it is possible to start the day in the mountains, with their sports and recreation centres, continue it on a farm in a green mountain pasture or valley, or perhaps on the Adriatic coast, and before it gets to evening allow yourself to be pampered at a top-flight thermal spa centre offering a sophisticated range of health and wellness services. You can taste Slovenia in 24 distinct gastronomic regions and 14 wine districts. Relaxation, entertainment and culture are provided by internationally famous festivals and other events - 365 days a year. Slovenia is an attractive blend of urban sophistication and rustic warmth in a green environment of incredible diversity.
The Slovenian Tourist board plans to make it easier for Slovenians, their descendants and friends to visit Slovenia, through numerous special offers and discounts. To ensure that Slovenians, their descendants and all friends of Slovenia throughout the world know about these offers, details are posted on the website slovenia.info/homecoming. The website, which posts special tourist deals and packages for expatriates, emigrants and their nearest and dearest, is also planned as a forum for impressions and memories of their original family homeland. The Slovenian Tourist Board has put together the special packages in cooperation with a range of tour operators, and will be continuously updating them.
Statehood Day, which Slovenia celebrates on 25 June, the day when the Republic's Assembly declared independence in 1991, will tie in with the meeting of Slovenians from all over the world, scheduled for 1 July in Ljubljana, Slovenia's capital city. This meeting will be just the pinnacle of events that will take place across Slovenia throughout the year in various urban centres. The calendar of events, which will be a welcome attraction for tourists who are tied to Slovenia in special ways, is being continuously updated on the website (twenty.si), which has been set up especially for this anniversary.
Alongside the websites twenty.si and slovenia.info/homecoming, which will feature various interactive sections and rewards, everyone is invited to visit Slovenia through various social networks (Facebook, Twitter), through direct communication (e-mails and notifications) and at other Slovenian tourism promotions (fairs and similar).
For more information, visit: slovenia.info