Final chances to 'HomeBuy Direct' at Abode in Birmingham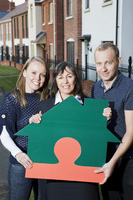 If you are looking to take your first step onto the property ladder then waste no more time. Persimmon Homes West Midlands is urging househunters to visit its Abode development in Birmingham where they will find even more of an incentive than they had expected!
The popular and hugely successful HomeBuy Direct scheme is now available on just two further properties meaning you will only have to pay 70 per cent of the value of your new home today*. So, taking that first step is affordable and, certainly possible.
Anita Williams, sales and marketing director at Persimmon Homes West Midlands, comments: "The HomeBuy Direct scheme has been a tremendous success and funding is now coming to an end through the Kickstart initiative. However, we haven't used up all our allocation and therefore have been able to offer the scheme on two further properties at Abode. We urge people to be quick – it could be the best move they ever make."
The HomeBuy Direct scheme has enabled hundreds of people to buy their own home for the first time as all they need is a deposit for 70 per cent of the value of the property. The remaining 30 per cent is made up by an interest and repayment free loan for the first five years, which is co-funded by the Government and Persimmon Homes.
Anita continues: "Owning a new home is so much more affordable with the HomeBuy Direct scheme for first time buyers and this really is a rare opportunity to capitalise on the opportunity."
Persimmon's Abode development, on Charlotte Road, is in a desirable location close to the City centre and within walking distance of The Mailbox and the array of bars and restaurants at Brindley Place.
The two properties available through HomeBuy Direct are the Longville design. Priced from £187,950 (or with HomeBuy Direct £131,565), the Longville features a living /dining room, kitchen and downstairs cloaks with two bedrooms and a stunning bathroom to the first floor – just the property for those looking for a first home.
For further information about the properties available at Abode including the two bedroom Longville, plus details on HomeBuy Direct, contact the marketing suite, open Thursday to Monday from 11am until 5pm.