Follow in the footsteps of Man to Mantas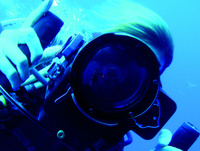 Follow in Martin Clunes footsteps to Ecuador and come face to face with some fascinating marine life.
Clunes recently fulfilled a burning ambition to swim with one of the sea's most enormous and enigmatic creatures in ITV1's new documentary Man to Mantas.
Already a qualified diver, Martin's fascination for the underwater world has been fuelled by family holidays to the Maldives. Like many divers his quest has been to see a giant manta ray, one of the most iconic species on the planet.
In Man to Mantas, Martin set off to realise his dream by calling into the Cayman Islands, Sri Lanka, the Maldives and finally Ecuador. He met the world's foremost expert on manta ray biology, Dr Andrea Marshall and British diving instructor, Mark Harding in Ecuador who established that there are over 300 mantas living in these waters. They are trying to unravel the mystery of where the manta rays go, by attaching satellite tags.
Follow the dream and help carry out important research with the Machalilla National Park, experience the manta ray migration between June to October, visit a turtle hatchery, and help to release baby turtles back into the ocean as well as dive in some of the most beautiful waters of South America where the waters are rich with schools of dolphin, humpack whales and turtles.
Join the Ecuador Marine Conservation, with prices starting from £1,299 for three weeks per person including shared accommodation in a shared volunteer house, dive equipment including tanks and weights, lunch and drinks on-board, training and support, arrival airport pickup, an in-country orientation and 24hr support. Flights are not included.
For more information and bookings, visit: realgap.co.uk