New Philips DAB digital radio exclusive to Halfords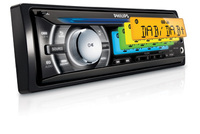 Listen to your top tunes and follow all your favourite sports action with the new in-car Philips DAB digital radios, exclusively available at Halfords.
Digital Radio UK Chief Executive Ford Ennals says; " There is now real momentum in the transition to digital radio and Halfords comprehensive product range and fitting service will enable drivers to listen to all their usual sport and music stations plus extra digital-only services such as Planet Rock, Absolute Radio 90s, BBC 6 Music and Radio 5 Live Sports Extra."
For 2011's must have gadget look no further than the UK's leading in-car technology expert's selection. With prices starting from £89.99 including full professional installation, for the Sonichi DAB adaptor.
For the ultimate upgrade, Philips new range of replacement head units include the CEM 2000B priced at £119.99 and CEM3000B priced at £139.99. With in-store fitting for head units from £24.99.
Both branded products boast a magnetic external antenna for the best possible listening experience and feature a CD player that lets you play your MP3 CDs (around 10 albums on one disc), as well as front AUX input, to connect and play your MP3 player or iPod from the headphone socket.
The front mounted USB input port on the CEM 2000B allows you to connect and play music stored on USB drives and the CEM 3000B has a direct iPod connection so that you can connect andcontrol tracks stored on your iPod through the stereo , and charge your Apple iPod, or iPhone on the move.
Both the CEM3000B and CEM2000B are also powerful performers thanks to built-in 50W X 4 and 45W X 4 amplifiers respectively with features like 'Dynamic Bass Boost' to reproduce the lowest notes. They can also be used as part of a larger system.
The new units offer a straight replacement for an existing factory car radio whilst adding features too. Even if it looks like your factory radio is 'built-in', Halfords are able to install the unit using our tried and tested adaptors. They'll even fit the antenna and neatly route the cable out of site inside the car for a professional finish.
For more information visit Halfords.com.