Wildlife holiday offers for tantalising Tanzania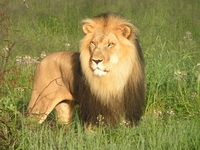 Twice the size of neighbouring Kenya and with a lower population density, Tanzania is a paradise for nature lovers.
Whilst its northern game areas of the Serengeti and the NgoroNgoro Crater may be better known, the southern circuit's remote wilderness – including Selous, Africa's largest game reserve – ensure superb game viewing opportunities.
To encourage travellers of all ages and budgets to experience Tanzania's natural charms for themselves, The Adventure Company is offering four great offers for 2011.
FOR ADVENTURERS ON THE HUNT FOR A RARE 'CASHBACK' BARGAIN
OFFER: Get $200 spending money on arrival in Tanzania on the Zanzibar & Selous trip
DETAILS: This is a safari with a real difference, spending 14 days discovering the highlights of southern Tanzania and getting off-the-beaten track in Selous National Park - tracking game on foot, in 4WD and by boat - before relaxing in Zanzibar. The $200, which is given in cash on arrival, can be put towards anything you choose. However, with so many optional excursions to enjoy – from a Masai village visit ($25) to an extra boat safari and game drive on your free day ($95 plus $20 park fees) and from a tour of historical Stonetown ($30) to a Dhow cruise ($39) – the extra spending money is sure to add to the memories.
VALID: Valid for departures from June 2011 to February 2012 if booked by 31 March 2011.
FOR A STYLISH WILDLIFE ESCAPE
OFFER: Enjoy an extra day and night free (full board) at Saadani National Park with two special elephant research Tanzania Revealed departures
DETAILS: Accompanying the local Masai guides on these two trips will be renowned elephant expert Alfred Kikoti who will take you on game drives and exhilarating wildlife walks, ensuring an intimate introduction to the hidden gems and tented lodges of southern Tanzania. Before the adventure ends in exotic Stone Town, these two special departures will be extended by a night with the extra day spent at Saadani getting involved in the local elephant research project. This combined initiative between the Tanzania Parks Authority (TANAPA), Alfred Kikoti and Tent With A View camp allows elephant behaviour to be monitored, the elephant 'corridors' to be monitored and any potential human conflict to be identified so that the animals are fully protected.
VALID: Valid for 24 August and 21 September 2011 departures.
FOR FAMILIES LOOKING TO SPICE UP THEIR HOLIDAYS
OFFER: Enjoy a free 3 night half board Zanzibar beach extension on the Safari & Spice family adventure
DETAILS: Tanzania is an exciting destination to enjoy with children and this trip offers a great mix of African adventure mixed with magnificent wildlife and exotic locations. Zanzibar's beautiful palm-fringed coastline, the warm inviting waters of the Indian Ocean and the atmospheric splendour of Stone Town provide the perfect finale to a memorable family holiday. Minimum age 6 years.
VALID: Valid for all departures until end December 2011 if booked by 31 March 2011.
FOR TEENAGERS WITH ANIMAL INSTINCTS
OFFER: A free day trip to Saadani National Park, including a game drive and boat safari, on the new Safari & Beach Teen Adventure
DETAILS: This southern Tanzanian adventure combines the best of beach and bush. Having travelled by train into Selous National Park to spend three days exploring an area larger than Switzerland on game drives and walking safaris, the second week is spent taking advantage of the rugged and beautiful Zanzibar coast. For the ultimate in 'safari and beach' this special offer gives active teenagers and their parents the chance to enjoy a more comprehensive safari experience as they enjoy an extra excursion in Saadani's unique location, where the African bushland backs right onto the Indian Ocean.
VALID: Valid for all 2011 departures.
To find out more about The Adventure Company's Tanzania holidays, visit: adventurecompany.co.uk