Secure and affordable home of your own in Oldham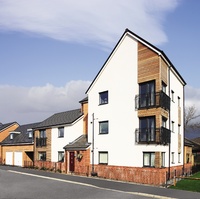 If you dream of owning your own home the help of a Government-backed scheme could be the boost you need to step onto the property ladder in Oldham.
HomeBuy Direct is available on selected Redrow apartments at Spinners Mews in Chadderton. With the offer of an equity loan, jointly funded by Redrow and the Homes and Communities Agency, it makes homeownership more affordable and could help buyers escape the rental trap.
Lesley Myers, area sales manager for Redrow Homes (Lancashire), commented: "There's definitely a lack of awareness of the help available to homebuyers in the Oldham area. Many don't know about HomeBuy Direct and others think the scheme is no longer available as the allocation for some housebuilders ran out in the autumn.
"It's still very much available at Spinners Mews though and our sales team have been explaining to potential purchasers that with the help of Government funding they could snap up a brand new home for a fraction of the cost. Eligible customers with an annual household income below £60,000 can own all of their home from day one but pay only 70% of the purchase price now."
Prices at Spinners Mews start from just £70,000 for a one-bedroom apartment; with two-bedroom apartments available from £85,000. Using the equity loan customers could find themselves catapulted onto the property ladder for an initial outlay of just £49,000. They can pay the outstanding balance when they have more funds available or when they come to resell and the loan is interest free for five years.
"Some people dream of owning a home of their own but fear they will have to resign themselves to a lifetime of renting. More than 30 people have already taken advantage of HomeBuy Direct at Spinners Mews, with some of them discovering that their mortgage repayments are actually lower than the rent they would pay for a similar sized property," Lesley explained.
"And because at Redrow we understand that setting up home is expensive we want to help make things as easy as possible, that's why we're offering to include carpets with selected properties at Spinners Mews reserved in January."
Close to the centre of Oldham and within easy reach of Manchester city centre , Spinners Mews enjoys excellent commuter links via road and rail.
To help customers understand how HomeBuy Direct works Redrow has produced an easy to follow video guide to the scheme. It can be viewed at the innovative award-winning online television channel Redrow.TV.
For more information about HomeBuy Direct, visit Spinners Mews and speak to the friendly, experienced sales staff.