Affordable green city centre homes in Birmingham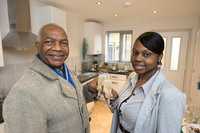 First time buyers in Birmingham could find 2011 a happier new year than expected with brand new, affordable - and green - city centre homes on the market.
This is Phoenix, the latest phase of affordable home ownership in Edgbaston from Attwood Homes, a subsidiary of multiple award-winning housing association, Optima Community Association.
Potential purchasers of these New Build Homebuy properties usually have to be first time buyers and must meet certain criteria.
They must not have a household income over £60,000 or debts more than £15,000 or £20,000 if it is a student loan.
Attwood Homes assesses affordability on a case by case basis and incomes as low as £15,000 may be able to qualify.
The scheme is not available to people who already own their own home.
Optima's property services director David Stevenson said: "The Phoenix development has been designed specifically to provide homes for first time buyers desperately trying to get on the property ladder but unable to afford to buy a home outright.
"There is a real pent up demand for affordable homes in the city. Houses at our previous development in south Birmingham sold off plan prior to completion and with the level of interest for the five homes in this phase we are hopeful Phoenix will prove as popular.
"Sustainable design is a major feature of these properties including solar panels to generate electricity for householders, creating an economic and green home in a climate of rising fuel prices."
The homes are available through the government-backed New Build HomeBuy scheme. Prices range from £72,500 for a 50% share for a two bedroom house to £79,975 for a three bedroom house. Buyers have the option to increase their share in the property until they own it outright. Rent and services charges will apply.
The development is in a prime location, in easy reach of the city centre and Broad Street. The Phoenix is an ideal place to live, commute to work and play.
Hopeful home owners got their first view of the show home and the rest of the development at a launch day on Saturday 15 January.
Thirteen properties are available at two locations - Phoenix at Bellevue, Edgbaston and Woodview at Spring, Edgbaston.
All homes are highly specified, complete with fully fitted kitchens and appliances, contemporary bathrooms with stylish Porcelanosa tiling, private turfed outdoor space, high quality fixtures and fittings, gas central heating, double glazing and photovoltatic panels.
These properties are part of a package of 78 homes being built by Optima, representing an £11m investment into the local economy.
It also fits into a bigger picture of 350 homes being built in the Optima-led regeneration of Attwood Green, a collection of five estates in Edgbaston and Ladywood – one initiative still going full steam ahead despite the recession.
Simon Kimberley, Optima's chief executive said: "At a time when the economic situation looks bleak and more and more people are worried they could never afford their own home, this scheme is very welcome.
"It shows that here in Birmingham we're finding ways through the downturn and it's a great example to other parts of the country."
For more information, visit: attwooodhomes.co.uk