New Clarion car audio is a knockout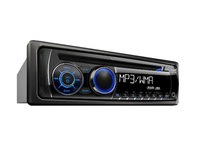 Clarion has delivered on the must-haves for entry-level audio - compatibility with your car's original equipment, enhanced sound quality, ease of operation and outstanding value for money – and boosted its CZ101E base unit with superior styling and advanced user interaction.
Part of an exciting 2011 range to benefit from subtle style tweaks, the CZ101E features CD-R and CD-RW playback, MP3 and WMA file compatibility, a 3.5mm mini jack AUX input on the fascia to support a stand-alone MP3 player, 4-channel audio pre-out for front, rear and subwoofer speaker control, and an RDS-EON tuner with 18 FM, 6MW/LW station presets.
With the optional addition of a BLT373 Bluetooth transceiver, the new unit also allows for the safe receiving and making of phone calls, via a Bluetooth enabled and paired mobile phone.
With the look of the 2010 range proving popular, the starburst style button illumination has now been set to mirror the rotary volume control, with an advanced H.M.I improving safety through greater control.
To ensure there's no let-up on audio quality, the CZ101E delivers an impressive 4 x 45 watts output, plus Beat EQ, Magna BASS EX and a Low Pass Filter for subwoofer sound enhancement options to boost enjoyment and allow for greater customisation to suit individual taste.
The Clarion CZ101E is the ideal entry-level upgrade and is available from all Clarion appointed specialists across the UK, priced at RRP £99.00. For more information, visit clarion.co.uk.