Escape winter blues for a wellness break in Liguria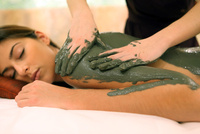 If the longer, lighter days of summer still feel far off and the impact of the long, cold winter is starting to take its toll a short break to Genoa and Liguria may be the ticket to rejuvenation.
Long known as a centre of thalassotherapy many of the quality hotels and day spas are open all year round offering a chance to escape the cold, enjoy the clear blue skies, long beach walks and thalasso treatments all rounded off with some of Liguria's cuisine. With a wealth of wellness hotels specialising in curative treatments, thalassotherapy and weight loss Liguria is a great spot for boosting the New Year, New You promises.
Terme di Genova - termedigenova.it
This new, extensive day spa opens on the 24th January specialising in curative treatments harnessing the natural, local sulphuric water known as Acquasanta to benefit skin and respiratory diseases. Accredited by the Servizio Sanitario Nazionale (the equivalent of the Italian NHS) the centre offers a pool kept at a soothing 34° centigrade complete with massage jets to ease tension. In addition hammams and saunas are available alongside an extensive range of treatments.
Thermae di Pigna - termedipigna.it
This comprehensive wellness hotel offers extensive spa facilities from the town of Pigna in Liguria. Offering value for money the hotel has doubles starting at €100 per room per night in low season with treatments starting from just €10. The hotel offers a dedicated wellness centre complete with Finnish sauna, Turkish hammam, steam inhalation, hydrotherapy, mud treatments and their own product line for customers who want to take home a slice of the rejuvenating properties.
Grand Hotel Alassio - grandhotelalassio.com
This five star hotel is idyllically located on the sea in the centre of Alassio. A recent refurbishment completed in 2009 has been sensitive to the original 19th century building whilst bringing the hotel up to date and launching a contemporary spa area.
The Spa Thermarium comprises aromatherapy herbal baths, balneotherapy (using local mud), and osmosis treatment for chromium therapy. The hotel specialises in detox, weight loss, anti ageing and rehabilitation. Rates in February start from €150Euros per double room based on two sharing, and in March this increases to €200.
Hotel Royal Spotorno - hotelroyalspotorno.com
Specialising in local mud and seaweed application and treatments, this four star hotel offers a curative approach. Offering unique treatments such as a four hand massage which takes place under a sea water shower, marine body peels and the 'Acquatonico' which is a guided walk through a channel in a shoulder height pool with counter current jets massaging muscles as the client pushes against the resistance. The jets work from feet to abdomen providing a massage and stimulating circulation and vital organs.
Light Therapy on the Beach
We all know the affects of a gloomy British winter. With the temptation to hibernate and forget about exercise and eating healthily until the sun re-emerges the winter months can be sedentary and unhealthy.
In Liguria the people use the benefit of the bright winter sun to their advantage with a dash of heliotherapy – light therapy. Many beach facilities are open throughout the winter providing a relaxing place to come and sit and enjoy the sound of the water and soak up the warm sunshine.
At the 'Garibaldi' in Finale Ligure the beach, which received the free Blue Flag Award in 2010 is fully equipped throughout the year and there is an inflatable play ground for kids aged three to 12. Entrance from €3. bagnigaribaldi.com
At 'Sun and Sea' in Loanhead visitors can enjoy the promotional rates and hire a sun bed for just €2 and enjoy the services from the bar. Also in Loanhead the 'Gypsy' offers free deck space for those who wish to absorb some rays and eat and drink at the bar / restaurant Doria.
In Liguria's capital Genoa the 'New Beach' (nuovolido.it) lido is now open with a solarium, heated indoor sea-water pool, restaurant-bar, ladies' hairdresser, gym, volleyball and mini tennis, spa.
For those looking for family fun 'Squash Genoa' (squashge.it) in Genoa offers something for all the family. Children can have fun on water slides and play path, placed in the middle of the beach, while parents relax on their sun loungers in the winter. In addition to playing squash, there is also the opportunity to practice beach volleyball. The restaurant "The Anchovy della Sera" and bar are open all year round.
Lastly the 'Bath Bar Liguria' in Sestri Levante offers a free heliotherapy beach service with a deck and snack bar overlooking the sea.
Ryanair flies from London Stansted to Genova. British Airways flies from London Gatwick to Genova.
For further information on "In Liguria" please visit: turismoinliguria.it