Swissôtel Living: A new concept for Istanbul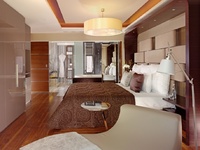 The first Swissôtel Living, a new, exclusive residence concept by Swissôtel Hotels & Resorts, was recently unveiled at Swissôtel The Bosphorus, Istanbul.
Sixty-three elegant apartments in a range of sizes, from studios to 1 - 3 bedrooms, offer the ultimate in style and luxury, and allow guests to enjoy the full range of hotel services within the comfort of their own four walls. More Swissôtel Living residences will follow in the future in other Swissôtel destinations.
Conceived by top designer Khuan Chew, the apartments enjoy a panoramic view of the Bosphorus and boast state-of-the-art technology, from LCD TVs to home cinema, fully equipped kitchens and exquisite bathrooms. The trendy interior design is highly appealing, with tasteful colour schemes and well thought-out living spaces. Guests can dine, meet friends or use the library in the communal lounge at any time of day, while the rooftop pool and spacious roof terrace - for the exclusive use of tenants - provide an ideal place to relax.
All services and facilities offered by the adjoining five-star Swissôtel The Bosphorus, such as the Amrita Spa & Wellness, a "Leading Spa of the World", extending over 4000 m2, and including 14 treatment rooms, a jacuzzi, sauna, steam room, hammam and gym, are freely available to guests of Swissôtel Living. The comprehensive range of facilities also includes the fashionable Gaja restaurant, tennis courts, indoor and outdoor pools, room service, the Business Centre, and extensive gardens.
"The designer Khuan Chew, whose work on the Burj Al Arab in Dubai earned her huge international success, has created a highly unusual architectural style for our new residences which represent the ultimate in modern living," says Gerhard Struger, Regional Vice President Turkey & Eastern Europe and General Manager of Swissôtel The Bosphorus.
"What's more, Swissôtel Living is equipped with environmentally friendly technology: waste water from the kitchens and bathrooms is recycled and used to water the gardens."
For more information, visit: swissotel.com