Denon unveils latest 3D universal Blu-ray player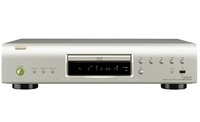 Denon has announced its new midrange 3D universal Blu-ray player, the DBP- 2012UD. Sharing the same structural and electrical design as the high-end DBP- 4010UD and DVD-A1UD models, the '2012UD offers outstanding sound and picture quality plus maximum connectivity. Users can enjoy a wealth of network content including music, photo and video streaming from DLNA compatible devices, and access data from the built-in USB port. The £749.99 DBP-2012UD will be available in stores from March onwards.
Denon's "universal" Blu-ray models provide superior playback of virtually all 12cm silver discs including Super Audio CDs and DVD-Audio. The newcomer features separate audio and video circuits to achieve superior audio and video quality.
Moreover, it comes with a leading-edge Anchor Bay Technologies VRS (Video
Reference Series) high-bit video processor, delivering Blu-ray Discs to perfection and upscaling standard definition DVDs to a level never seen before. The DBP- 2012UD's audio section features 7.1ch analogue outputs with full decoding of Dolby TrueHD and DTS-HD Master Audio. For those listeners who want to use it as a stepup CD player, the player offers a dedicated two channel analogue audio output, equipped with high-bit D/A converters(32bit/192kHz) to ensure the high level of sound quality for which Denon is renowned. Elsewhere, special coatings to the surface of the disc mechanism and a top cover with dual layers ensure the very best performance possible.
The DBP-2012UD provides easy and straightforward access to the Internet, opening up new content and networking opportunities. For instance, it offers YouTube streaming and is DLNA 1.5-certified for audio/video/photo streaming with other DLNA certified products across a network.
The player has versatile playback options including Kodak Picture CD as well as DivX Plus HD, MP3 and WMA playback (all via either recordable DVD/CD or external memory). Denon's DBP-2012UD will be available in a black or a premium silver colour finish from March onwards.