Transport yourself to the BBC's Madagascar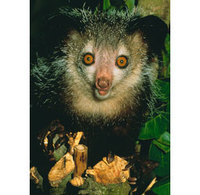 The BBC Natural History Unit's latest wildlife spectacle will be hitting TV screens this month (February)* bringing the extraordinary wildlife and dramatic landscapes of one of the world's most astonishing islands under the microscope.
Narrated by Sir David Attenborough, the three-part 'Madagascar' series uses the latest in filming technology to explore strange and fascinating wildlife found nowhere else on the planet.
Reef & Rainforest Tours (reefandrainforest.co.uk) is the UK's longest-established and most experienced specialist tour operator for Madagascar, with 16 years' first-hand knowledge of this remarkable Indian Ocean island. A land of lush rainforests, desert scrub and beautiful coral reefs, Madagascar is the fourth largest island in the world. The land mass broke from continental Africa 65 million years ago, leaving its flora and fauna to evolve in isolation and resulting in an almost completely endemic mammal and reptile population.
Some of the wildlife featured in the BBC2 programme appears on film for the first time, whilst surprising stories are brought to light surrounding perennial favourites such as the lemur. Highlights include frogs that turn from brown to bright yellow, wasps that pluck tadpoles from tree-nests, fish that swim upside down and the romantic life of the world's tiniest chameleon.
Reef & Rainforest Tour's 13-night 'Bare Necessities Overland Tour of Madagascar' includes the wildlife-rich rainforests of Andasibe and Mantadia National Parks, the varied landscapes and villages of the Hauts Plateaux along with the stunning Ranomafana and Isalo National Parks and the beautiful coast and spiny forest at Ifaty. The trip has been designed with independent travellers in mind and costs from £1,836 per person and includes:
• Accommodation
• Some meals
• A number of tours and excursions
• Private transfers
The price does not include international flights.
*Scheduling still to be confirmed by the BBC:
• Episode 1: "Island of Marvels", 8.00pm, BBC Two, Wed 9 Feb
• Episode 2: "Lost Worlds" 8.00pm, BBC Two, Wed 16 Feb
• Episode 3: [Title TBA] 8.00pm, BBC Two, Wed 23 Feb