City living in a converted piano factory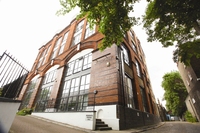 A home in an historic Camberwell-based Piano Factory in SE5 is now available through South East London's leading online estate agents Wooster & Stock.
Located next to the charming Georgian registry offices, The Piano Factory was built at the turn of the last century and used as an ammunitions factory during WW I, before finding its rhythm as a piano manufacturer.
The Piano Factory was converted into luxury apartments in the late 1990s and one apartment is currently owned by Tamas Lugosi, the Deputy Managing Director of 'The Group', a leading London online communications agency.
Tamas explains: "My apartment was in great condition when I purchased it five years ago and as it needed no major work, it was perfect for a busy professional like me. Knowing the history of the building also meant The Piano Factory immediately felt like a special place to live. There are solid iron columns in the property which are not only striking, but they are a reminder of the importance the property played in Britain's recent history."
The ground floor of The Piano Factory is a spacious open plan kitchen and living area, stretching over ten metres. There are wooden floors throughout and a double height ceiling with spectacular floor-to-ceiling windows. Upstairs there is a bright mezzanine large enough to be a study or reading area, two equal sized bedrooms, both with their own en-suite bathrooms.
According to Becky Munday, Head of Sales at Wooster & Stock: "This apartment is a 'ready made' home and while located in a quiet and leafy area, the excitement of up-and-coming Camberwell town centre is just on the doorstep."
Tamas agrees: "The local area is lively and vibrant. Behind the property is the artisan quarter which is a step back in time in some ways, as the quiet cobblestoned streets are a great escape from bustling London life. There is a myriad of trades including glassmakers, painters, sculptors and jewellers and walking through the workshops is one of the most relaxing ways to spend a Saturday afternoon."
Living in The Piano Factory has inspired Tamas to dabble in some of his own artistic endeavours. He continues, "I have done some painting in my spare time and I have also put my hand to the piano over the years – I felt it was only appropriate given the history of my home!
"I will be sad to leave The Piano Factory, however as we become more settled my partner and I are looking for a larger property more suitable for a family. We love the vibrant community of Camberwell and are hoping to remain in the area."
Trains from Peckham Rye station are only a short walk away, servicing Blackfriars, London Bridge and Victoria in approximately twenty minutes, whilst buses running down Peckham Road access all corners of London. The Piano Factory is also perfectly located for cyclists and both Heathrow and Gatwick airports are both less than an hour away. *
The apartment on Peckham Road is on the market for £409,950 through Wooster & Stock.
For further information on The Piano Factory apartment on Peckham Road and similar properties, visit: woosterstock.co.uk
* Source of information: Google Maps and the AA Route Planner, 26th November 2010