Cruze-flash! New model to hatch at Geneva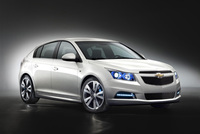 With both the British and World Touring Car Championship titles in its armoury, the Cruze is already a winner – and at the Geneva Motor Show, Chevrolet will pull the wraps off the variant that will bring it even greater success in the sales charts.
The newcomer will draw styling influences from the Cruze Hatchback concept previewed at the Paris Motor Show last September, which achieved plenty of praise from showgoers and industry commentators alike.
For while the new hatchback body might bring extra practicality to the Cruze, which already has one of the biggest load areas in its class, it brings new levels of style to match its versatility. With its attractive sweeping coupe roofline and short front and rear overhangs, it enjoys the same dynamic stance as the saloon model, but with even greater sleekness.
It will also be offered with a new range of engines, with the range-topping diesel unit the same as that of the newly-launched Orlando, with 163PS and a standard six-speed manual gearbox.
"The Cruze Hatchback will give us a huge opportunity in the UK," said Chevrolet Managing Director, Mark Terry. "This year alone, we've got four major new model launches that will have a significant positive impact on our product line-up in the UK, as well as the Camaro to cast a halo over the rest of our range.
Alongside Orlando, the New Captiva and New Aveo, the Cruze hatch delivers greater choice and versatility to our customers, and as well as offering the same great value and quality finish that our retail customers are used to, it will give us a far greater presence in the hotly contested fleet market."
Chevrolet has worked flat out to keep up with demand for the Cruze four-door since it went on sale in mid-2009, exceeding sales expectations across the globe, including in the USA where it has recently gone into production.
As well as performing well in the sales charts, it has enjoyed huge success in motor sport. Legendary tin-top racer Jason Plato won the British Touring Car Championship in the Cruze in its first ever season in the sport, while the Chevrolet team also took home the World Touring Car Drivers and Constructors Championships.
"Motor sport is part of Chevrolet's DNA," added Mr Terry. "What we learn on the track is passed down to our road cars, and this latest incarnation of Cruze proves that."
The Cruze Hatchback will go on sale in the UK in the summer of 2011, with prices and exact specifications to be confirmed nearer the time.