A path for all at Crickhowell Walking Festival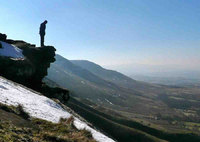 Dare you try the Fan Dance walk, led by RAF trainers, which is so tough it's used as part of the selection process for the SAS?
Or would you prefer to go for a gentle stroll around the Glanusk Estate in the knowledgeable company of the gillie? Or listen to early music in ancient Patricio church and then walk over the hills with the singers to the romantic ruins of Llanthony Priory where the performance will continue.

All is possible at the Crickhowell Walking Festival. There are more than 70 guided walks catering for all ages, abilities and interests. The only common element is that they all take place within the stunning landscape of the Brecon Beacons National Park.
You could even learn new skills or hone old ones with a Paddle and Pedal event. Spend the morning with expert tuition canoeing down the Wye to lunch in Hay on Wye before saddling up for a guided cycle ride back through quiet lanes. Or Rock & Roll, climb with experts in the morning followed by lunch and a guided mountain bike ride in the afternoon.
For further information go to: CrickhowellFestival.com