Fiat Professional rolls out new Doblo Cargo incentive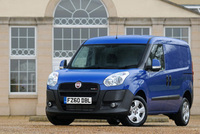 A tasty new incentive to encourage customers to test drive the award-winning Doblo Cargo has just been launched by Fiat Professional.
Anyone taking a test drive in the 2011 International Van of the Year can claim £50 worth of fuel back, and a bacon roll – meaning they can 'fill up' on two counts. The rolls are also on offer for customers who go on to order a Doblo Cargo before 30 April 2011 – and this time there's £100 of free fuel to claim.
The sizzling sales campaign, launched this week by Fiat Professional, comes as fuel prices hit all-time highs and gives the commercial vehicle arm of Fiat Group Automobiles UK the chance to highlight Doblo Cargo's own excellent fuel consumption figures – up to 58.9mpg on the combined cycle.
And with environmentally-friendly CO2 emissions from 126g/km, and high levels of safety, versatility and practicality, it's easy to see why Doblo Cargo has already won several top awards.
"Doblo Cargo is a great success story, but we're always hungry for more customers to get behind the wheel and try it for themselves," says Gerry Clarke, director, Fiat Professional UK. "It's now a serious consideration for businessmen and women whose role it is to bring home the bacon.
"With the price of petrol and diesel on everyone's minds today, this incentive offers great opportunities to claw some fuel back – not just now, but also in the longer term for customers opting to buy a Doblo Cargo."
Available with a choice of four low emissions, Euro 4 and 5-specification engines, the new Doblo comes in seven different forms – Cargo, Cargo Maxi, Cargo SX, Cargo Maxi SX, Combi, Combi Maxi and Platform Cab – to offer something for a wide spectrum of van users.
The engine line-up comprises a 1.4-litre 16v 95bhp petrol unit and three MultiJet 16v diesels – 1.3 (90bhp), 1.6 (105bhp), and 2.0 (135bhp). Prices start at £11,395 (exc. VAT) for the Doblo Cargo 1.4 16v Petrol.