First images of revised Volkswagen Tiguan revealed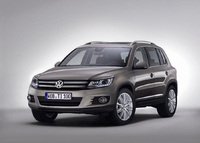 The first pictures of the revised Tiguan compact 4x4 have been revealed ahead of the car making its public debut at the Geneva Motor Show next month.
Sporting a new front end defined by horizontal lines to bring it into line with the latest Volkswagen 'design DNA', the new Tiguan looks sharper and sleeker than the current model.
Advance sales of the new Tiguan have already begun in Germany – earlier than initially planned – due to sustained high demand for the previous model which has resulted in it selling out. The Tiguan has been equally successful in the UK where the new variant will be available to order in early summer ahead of first deliveries in August.
The Tiguan has become one of the most popular Volkswagens in the world, selling in high volumes across Europe, Russia, the USA, China, Brazil and Australia. In Germany, its average market share in the compact SUV segment grew to 21 per cent in 2010, while across Europe it was 12 per cent. Globally, a total of 572,000 Tiguans have been delivered since it was first launched in autumn 2007. The Touareg's smaller brother is now poised to continue this success story with a new look and advanced technologies.

Further details will be announced nearer the Geneva Show, which opens on 1 March.