SsangYong to show SUT 1 concept at Geneva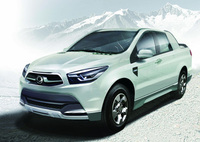 SsangYong will show a stylish new concept of its popular Actyon Sports at the Geneva Motor Show, 3-13 March.
While maintaining the essential characteristics of a traditional pick-up, this concept presents a more contemporary look to reflect the styling expected of today's Sports Utility Truck.
The concept is similar in size to the current Actyon Sports - 4,985mm long x 1,910mm wide x 1,755mm high, and with a generous 3,060mm wheelbase. Satisfying environmental demands for Euro 5 compliance, the new 2.0 litre diesel engine produces a maximum output of 155ps and maximum torque of 360Nm. Optimum torque is delivered across a low yet broad rev range of 1,500-2,800rpm, giving effortless acceleration from low engine speeds.
The new model will offer the choice of either 6-speed manual or automatic transmission in either 2-wheel or 4-wheel drive models. It will go on sale across Europe and other markets from early 2012.