Archaeological dig undertaken in Beck Row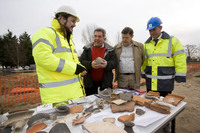 Prior to the new residential development being constructed at Smoke House in Beck Row, a number of archaeological open days were held by the developers, Persimmon Homes Anglia.
Attended by invited local residents, the digs were hosted on 3rd and 4th February, and gave visitors the opportunity to learn more about their local history by viewing the artefacts discovered and speaking with the team of archaeologists about the findings.
As part of the preparations for Persimmon's latest development in the area, Sycamore Park, the company has now had the site fully and professionally excavated.
Shaun Marjoram, construction director for Persimmon Homes Anglia, states: "There is a lot of history here in Beck Row and it was fantastic to be able to offer the local residents the opportunity to come down to the site and learn about their heritage.
"Everyone who came to our open days really enjoyed it and we were glad to be able to offer them a unique encounter where they could see close up how an archaeology dig works and the sorts of items that have been lying hidden in their town."
Among the 97 items uncovered, the archaeologists found over 40 coins, three pots, a ceramic oil lamp, a bronze brooch and a lead pendant along with many other objects which are believed to date back to Roman times.