2011 Scirocco R-Cup calendar announced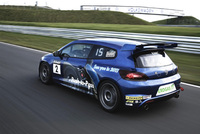 After its successful inaugural season, the Volkswagen Scirocco R-Cup returns in 2011 with an attractive calendar.
Both season opener and the finale will again be held at Hockenheim, and new to the 2011 calendar is the Red-Bull-Ring at Spielberg, Austria, which complements the time-tested venues of the Scirocco R-Cup. Between April and October, there will be rounds across Germany at the EuroSpeedway, the Norisring, the Nürburgring and Oschersleben, as well as a return to Brands Hatch in the UK.
The paddock will include both male and female racers from eight different countries and, once again, motorsport legends and celebrities will complete the grid as guest entrants at each round.
The spectacular, eco-friendly Volkswagen one-make cup reduces CO2 emissions by 80 per cent with the cars fuelled by bio natural gas. The 2011 season will again support the German DTM calendar, encompassing eight out of the 10 German touring car championship events.
As a DTM partner series, the Volkswagen Scirocco R-Cup will continue to perform on a grand stage. Letting fans come close to the action and delivering thrilling races are aims which the top touring car class and the world's most eco-conscious one-make cup have in common. 2010 saw an average of 86,000 spectators flock to the jointly held races.
The grid of the identical coupés guarantees absolute equality of opportunities to all entrants. A push-to-pass system offers a limited number of 50 PS power boosts at the driver's fingertips, to guarantee captivating races, while the direct comparison between the young drivers, seasoned campaigners and legends of motorsport in the same race adds to the suspense.
The Scirocco R-Cup will return to Brands Hatch over the weekend 2-4 September 2011.
For more information about the Scirocco R-Cup or Volkswagen Motorsport, visit volkswagen-motorsport.info
The 2011 Scirocco R-Cup Calendar
29 - 30 April Hockenheim (D)
3 - 5 June Spielberg (A)*
17 - 18 June EuroSpeedway (D)
1 - 2 July Norisring (D)
5 - 6 August Nürburgring (D)
2- 4 September Brands Hatch (GB)
16 - 18 September Oschersleben (D)*
21 - 22 October Hockenheim (D)
*two rounds per race weekend