Sustainable new homes in Woking from Taylor Wimpey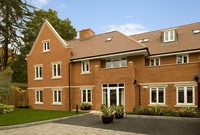 The apartments and houses at Taylor Wimpey's Pinnacles development of property for sale in Woking are setting the standard for eco-friendly living.
Taylor Wimpey's popular Pinnacles development in of new homes for sale in Woking offers so much more than stylish and comfortable homes – it's also setting a shining example for modern sustainable living!
The beautiful selection of houses and apartments in Woking, set within the picturesque grounds of St Peter's Convent, Maybury Hill, is nearing completion, and the highest eco-friendly standards have been in place throughout its design and construction.
Residents of Pinnacles are being given every opportunity to lead a more sustainable lifestyle, with a biomass boiler and a combined heat-and-power unit generating 10% of the energy required to heat and light these Woking flats and apartments – putting less pressure on the National Grid.
Each of the houses and flats for sale in Woking at the development is completed to a Very Good standard under the Ecohomes environmental assessment scheme, thanks to the low-energy lighting, water-saving appliances, high-specification cavity insulation and ultra-efficient double glazing which are standard features of every home.
Residents are also encouraged to reduce their carbon footprints, with office facilities to many of the Woking properties allowing them to work from home when possible, and cycle storage to promote green travel.
Building materials used in the construction of the new houses and apartments for sale in Woking are responsibly sourced, with all timber products supplied with 'chain of custody' statements guaranteeing that they have originated from sustainable forests.
And it's not just through the homes themselves that Taylor Wimpey is doing all it can to be kinder to the environment – the leafy surroundings of Pinnacles are being protected too. At least 20 bat boxes have been installed throughout the site to give the local pipistrelle population plenty of places to roost, and dozens of mature trees are being preserved and fenced off to protect them during construction.
Tim Betts, Regional Sales and Marketing Director for Taylor Wimpey, says: "We're proud of our record when it comes to creating sustainable communities, and we've been working very hard to ensure that Pinnacles exceeds the very high standards which are rightly expected of all new homes in the 21st century.
"This is great news for the environment and even better news for homebuyers, with energy- and water-efficient properties offering huge potential savings on utility bills and the lovely natural surroundings of the development preserved for our residents to enjoy."
More than 75% of the homes at Pinnacles are now sold, and would-be buyers are advised to act quickly to take their pick from the final selection of stunning two-bedroom 'Croft' apartments remaining available to purchase.
Priced from as little as £222,995, these wonderfully stylish properties each boast a spacious lounge/dining room with open-plan fitted kitchen, with an en-suite master bedroom, a good-sized second bedroom and a main bathroom located off the internal entrance hallway, plus allocated undercroft parking outside.
Discerning buyers in search of the ultimate in luxury can still secure one of two magnificent duplex apartments, priced from £334,995, while two exquisite penthouse apartments remain available priced from £279,995.
Pinnacles enjoys a enviable location within peaceful gated grounds next to St Peter's Convent in Maybury Hill, Woking, and close to picturesque open countryside.
The development is also within easy reach of central London, and Woking's railway station is less than a mile from home, offering frequent and fast services to Waterloo. The M25, M3 and A3 are all close by and Heathrow Airport is just a short drive away.
Woking itself boasts a wealth of choice for shopping, entertainment and leisure, with two modern shopping centres, a multi-screen cinema, the New Victoria Theatre, first-class sporting facilities and a multitude of restaurants, pubs and bars.
Property-seekers can discover more about sustainable living at Pinnacles by visiting the Sales Information and showhome, located off Maybury Hill, Woking, and open seven days a week from 10.30am to 5.30pm.