Wedding product searches up on Twenga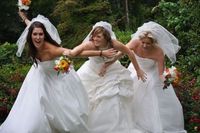 Twenga, the most comprehensive search engine, can reveal what trends are dominating spring wedding planning. The results show tradition holding its place, but not without a modern twist. Brides are expressing their personalities while respecting classical cues.
The past month has seen a marked increase in searches for wedding products generally, with searches for wedding hats up 235%, wedding shoes up 150% and wedding decorations up 139%.
But if the dress reveals most about the bride, women are searching for a princess silhouette most. Just behind are mermaid and empire silhouettes, evidence that red-carpet looks are influencing bridal fashion.
The traditional trend is reflected in a 113% increase in wedding veil searches, while modern personalities express themselves with colour.
White does not even make the top 5, while purple and pink dominate searches. Necklines too have changed, with the top three counting off the collar, scoop and V-necks. Tea-length is the most popular style.
Budgets vary of course, and while the Pronovias brand's exclusivity leads the way, more accessible price points are generally more popular. This can be seen in the rise of Ronald Joyce and Justin Alexander, second and third places respectively.