Volkswagen Tiguan - take a closer look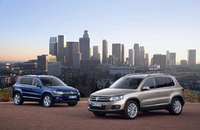 Following the first images of the new Tiguan which were revealed earlier this month, Volkswagen has released more details about the latest compact SUV model, ahead of its public debut at the Geneva Motor Show on 1 March.
Thanks to a new look and new technologies, the model will be the sharpest and most efficient yet, featuring improved fuel consumption and reduced emissions.
The new Tiguan will be available with a comprehensive range of refined TSI petrol and TDI diesel engines and, as with the current Tiguan, four-wheel drive will be available with all engine derivatives. An optional two-wheel drive transmission will also be offered with select engines.
The new Tiguan will be available to order in the UK from early summer and specification and pricing will be announced nearer to launch.