Mitsubishi i-MiEV earns 4-star Euro NCAP rating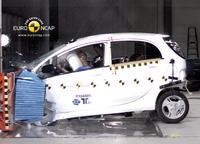 When first launched in Japan in July 2009, the Mitsubishi i-MiEV became the first electric car in regular series production from a major manufacturer, available to world markets. Today, it also becomes the first electric vehicle to be crash-tested by the renowned Euro NCAP organization: a milestone further enhanced by a 4-star rating / new protocol.
Going mainstream
Excellent as such, this result vindicates the view Mitsubishi Motors took when developing this next frontier vehicle: whilst ambitious in its technology, it shall remain mainstream in its daily use whether through the ease of driving, the performance and the convenience it offers.
Obviously, this includes the guarantee of a level of passive & active safety similar to that of an IC-engined car - the direct result of a thorough development process accumulated over 500,000 km of testing that only a major manufacturer like Mitsubishi Motors Corporation (MMC) could commit.
Integrity
Making the best use of MMC's advanced mid-ship architecture, i-MiEV is powered by a compact and lightweight motor and a pack of high-energy density lithium-ion batteries safely located within a long 2.55 m wheelbase.
In this respect, Euro NCAP's comments on the integrity of i-MiEV are eloquent: "No problems were experienced with the high voltage electrical system which powers the vehicle: the battery was properly isolated from the body shell and was not damaged during the tests."