Growing demand for serviced apartments in Edinburgh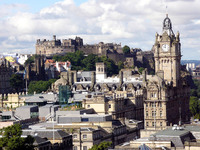 Edinburgh is facing a severe shortage of serviced apartments as growing demand from corporate and leisure users continues to outstrip supply, according to a new research report published by Go Native, one of the UK's largest suppliers of serviced apartments.
Although traditionally favoured as a cost-effective alternative to hotels by the 13 million tourists that visit the city every year, serviced apartments in Edinburgh are being used increasingly regularly by corporate guests from the growing number of businesses based in the city and looking to cut their accommodation costs. With record levels of tourism and the Edinburgh Economy Watch reporting 2,429 new companies incorporated in Edinburgh between January and November 2010, Go Native anticipates demand to burgeon over the coming years.
But this growing demand is not being met by supply. Go Native's report estimate that there are just 900 serviced apartments in Edinburgh, representing less than 5% of hotel supply, and a lack of finance over the past two years means that developers are unlikely to provide any significant amount of new stock for at least a couple of years.
Guy Nixon, CEO of Go Native, comments, "As the fourth largest financial hub in Europe and home to the world's biggest arts festival, it is not surprising that demand for cost-effective serviced apartments is increasing.
"Unfortunately, the hangover from the financial crisis continues to restrict the number of developments coming onto the market, with almost nothing being built specifically for the serviced apartment market. However, with net yields from serviced apartments higher than those achievable from student and commercial developments, I expect developers and investors to respond to demand as the general property market improves."
Go Native is expanding its operations in Edinburgh in response to unprecedented demand which has seen occupancy jump from 72% to 80% in the past year alone. Demand is being driven by an increasing number of users recognising the advantages that serviced apartments can provide over traditional hotels: they are available for any amount of time from one day up to a year; customers can specify the level of service required - whether it be a daily linen service or a weekly clean; properties can be quickly and easily identified and booked on the Go Native website; and there is no formal check-in process.
Because of lower overheads serviced apartments offer savings of around 30% for guests, with prices from just £65 per night as opposed to the equivalent standard Edinburgh hotel average of £90.
The serviced apartment sector is already well established in Edinburgh, with the majority of stock concentrated around four main areas: the Waterfront; New Town; Old Town and the West End. The majority (58%) of apartments are of a 3* standard, a further 27% are 4* and there is also a number of budget 2* (11%) and higher-end 5* options. This stock is made up of mainly one and two bedroom apartments, with only a small number of three-bedroom or studio apartments available.
All of Go Native's apartments are of a 3* and 4* standard and feature comfortable, contemporary interiors complete with a private bathroom, fully-equipped kitchen and with broadband and digital TV services provided as standard. Some of the buildings also feature free on-site laundry rooms, entertaining spaces and guest lounges with large plasma screen TVs.
Established in 1998 and headquartered in Scotland on Edinburgh's Rutland Square, Go Native is a global provider of temporary housing solutions, providing both companies and end-users with access to a comprehensive network of properties available on a flexible basis. As well as business travellers, its accommodation solutions are becoming increasingly popular with a wide range of end-users including international commuters, relocating employees, project workers, travel professionals, international students and graduates and tourists.
For more information on Go Native or its products and services please visit: gonative.com