Fiat introduces MyLife to its range of cars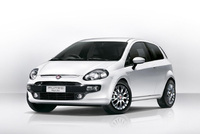 A new collection of well-equipped, high value models has just been introduced across the Fiat passenger car range.
Called MyLife, the new trim level was launched last Friday (18 February) with Fiat Punto MyLife, and is followed up this week with Fiat Panda. Bravo, Qubo and Doblo MyLife vehicles will be introduced later this year.
Part of the Fiat range, the MyLife cars are not limited editions. They focus on style and technology, with a special emphasis on choice and value for money, in a car carrying an impressive equipment list. Original and distinctive, MyLife cars combine design, technology and eco-friendliness in a single product.
"We're very excited to be launching this new model strategy which offers customers the best value proposition within the core segment of each model range," says Elena Bernardelli, marketing director, Fiat Group Automobiles UK and Ireland.
"MyLife focuses on style and technology while at the same time offering a proposition that represents sheer value for money. I am sure this will be of interest to many new and existing Fiat customers."
In terms of style there are several highly visible changes to the recognised exterior of the Punto MyLife, such as a special gloss finish (Piano Black) to the front and rear bumper inserts and door pillars.
Like the GP and Sporting versions, Punto MyLife has dark tinted headlights and burnished tail lights to give a sporty look and feel. The car also gets body-coloured door handles, 15-inch sports style alloy wheels and front fog lights
Inside Punto MyLife has an enhanced soft touch black dashboard with sporty perforated inserts. As standard, it features Blue&Me telecommunications and information with the facility for TomTom sat nav, Start&Stop with Gear Shift Indicator and air conditioning.
Available with Fiat's 1.2-litre 8v (69bhp) engine, Punto MyLife current price is just £9,995 (3-door) and £10,595 (5-door).
Panda MyLife is based on the 1.2-litre 8v (69bhp) Active model and comes as standard with 14-inch alloy wheels, air conditioning and remote central locking. It is currently offered at just £6,995.