Ford Fiesta Econetic vans help engineering firm go green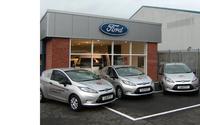 Imperial Commercials Halesowen recently sold 3 Fiesta Econetic vans to Lift & Engineering Services. The vehicles were purchased with a view to reducing their emission capacity in and around town and city centres throughout the UK. This is in line with the new government guidelines which state by 2011, all larger organisations with high emission vehicles will be unable to access these areas.
Tony Blakemore, Health and Safety Officer for Lift Engineering Ltd says, "As most of our work for Lift installation and maintenance is supplied in and around town and city centre's in retail and business premises, it is essential that we confirm to the new government legislation so that we can continue to provide a high level of services for our clients."
After considering many different vehicle makes and models, the Ford Fiesta Econetic was the preferred choice because of its low emissions, cost effectiveness and sustainability.
Some other measures taken by Lift Engineering to reduce their carbon footprint have included, installing tracking devices, lightening their loads and looking at other new vehicle models due for release in the near future.
Paul Barnsley from Imperial Commercials said "The choice of vehicles Lift and Engineering Services have chosen clearly demonstrates they are committed to going green".
For more information visit: imperialcommercials.co.uk