Abarth kicks off new series at media track day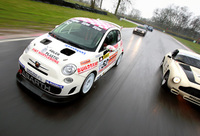 Abarth has signalled the start of its 2011 one-make Trofeo race series with an appearance at a major racing media day.
The Trofeo Abarth 500 GB series was among the main attractions at the media day held yesterday (23 February) at Brands Hatch motor racing circuit, in Kent.
The series, which will officially race away from the lights on Easter Monday this year, was part of a media tie-in with race promoter MotorSport Vision Racing (MSVR), and featured cars and karts from other UK series.
The Trofeo series proved to be a remarkable success in its debut GB race season last year – featuring at top race tracks around the UK and in Italy – and a second season has long been anticipated.
"We are back again for 2011 and going from strength to strength. We've further improved the Trofeo GB series this year with new features, including the Abarth Village – an area of technical support, spares and advice for competitors," says Ivan Gibson, head of Abarth UK.
"The media day was a good opportunity for the press to see our remarkable cars before the season gets underway – now we're looking forward to showing them once again to race fans around the UK."
Powered by a 1368cc 16-valve turbocharged engine, the 970kg Trofeo 500 race cars develop 190bhp at 6500rpm and torque of 300Nm at 3000rpm to achieve dramatic performance on the track.