BMW Motorrad announces K 1600 GT and GTL prices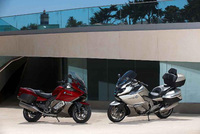 BMW Motorrad has announced the recommended retail prices for the new K 1600 range. The agile and dynamic, continent-crossing K 1600 GT will be £14,950 and the K 1600 GTL, the pinnacle of luxury, long-distance touring, will be £16,515.
In addition to the high level of standard equipment on the GT and GTL, two enhanced specification models featuring the world's first motorcycle Adaptive Headlight, Dynamic Traction Control and Tyre Pressure Control will also be available in the UK. The K 1600 GT SE will be £15,765 and K 1600 GTL E will be £17,315.
Ian Furse, BMW Motorrad UK Sales Manager, said: "The new six-cylinder tourers are the most technologically advanced bikes ever built for the road and feature the first ever Adaptive Headlight on a motorcycle. The standard level of equipment on these bikes is incredibly high but owners can take it even higher with options including Dynamic Traction Control, Electronic Suspension Adjustment II, a GPS navigation system which integrates with the fuel range computer and an iPod/USB stick compatible Audio System.
"The stunning engine, the most compact six-cylinder motorcycle powerplant currently in production, combined with the use of lightweight materials and construction techniques previously only found on supersports machines, mean that the K 1600 GT and GTL offer a truly premium experience. And with the announcement of these prices, we can offer this class-leading package at truly competitive prices. With these two bikes, BMW Motorrad has created a new category of performance touring motorcycles."
BMW K 1600 GT (standard specification)
Recommended Retail Price £14,950
E-Gas with three engine power modes
Self-levelling Xenon headlight
5.7-inch high quality LCD dashboard display
Heated seats
Heated grips
Cruise control
Electronically adjustable screen
ABS
Colour-matched panniers
Centre stand
LED indicators and brake light
Optional low seat
BMW K 1600 GT SE
Recommended Retail Price £15,765
As standard specification, also includes:
Adaptive Headlight
Dynamic Traction Control
Tyre Pressure Control
BMW K 1600 GTL
Recommended Retail Price £16,515
As standard specification, also includes:
Integrated audio system
Colour coded top box
Chrome body kit
Comfort footrests
Comfort windshield
BMW K 1600 GTL E
Recommended Retail Price £17,315
As standard K 1600 GTL, also includes:
Adaptive Headlight
Dynamic Traction Control
Tyre Pressure Control
From 19 March, visitors to BMW Motorrad dealerships will be able to book test rides and see these motorcycles in showrooms for the first time. To mark the occasion, each dealership will be hosting activities ranging from celebrity guest appearances to welcome drinks, food and live entertainment - contact your local dealer for more information about their plans.
The Recommended Retail Prices include delivery charge and VAT. Dealer on the road prices will apply. For more information about BMW Motorrad products visit bmw-motorrad.co.uk.