Fiat sponsors children's charity with Doblo van gift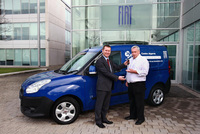 A leading children's charity is set to benefit from Fiat's generosity after taking delivery of a Fiat Doblo Cargo van for help with a new international project.
Special needs holiday trust, 24x7 Ltd, will use the diesel-powered Cargo 1.6 SX MultiJet at its Centre Algarve development on the Portuguese coast. Managing director Andy Mahoney took delivery of the vehicle yesterday (24 February).
Centre Algarve is Europe's first holiday centre to cater exclusively for customers with special needs. A former holiday complex, the property is in need of total refurbishment – much of which is being carried out by volunteers. When complete, the Centre will have 14 bedrooms, a swimming pool, sensory garden and animal sanctuary.
"This means so much more than just a van to us," says Andy Mahoney. "Having a high profile company such as Fiat supporting us raises our profile and should encourage others to help us too.
"The Doblo Cargo is a superb van and will be a great help with all the building work we have planned for Centre Algarve."
"We are delighted to be able to support this fabulous charity, which is giving so much to people with special needs," adds Simon Wheeler, fleet and remarketing director, Fiat Group Automobiles UK. "There is much to be done at Centre Algarve for which a good van will be essential, so I'm pleased for the Centre that the vehicle will be a Doblo Cargo."
The Fiat Doblo Cargo range starts at £11,395 (basic price) for the 1.4 16v Petrol, rising to £16,295 (basic price) for the Maxi SX 2.0 MultiJet 16v Diesel.