HARMAN help create the world's first social networking vehicle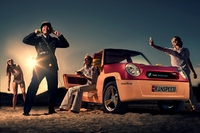 HARMAN, the premium global audio and infotainment group, is lending its most innovative connectivity and audio solutions to help create the world's first social networking vehicle – the Rinspeed BamBoo electric concept car. Reflecting consumer desires for both a greener and increasingly networked lifestyle, HARMAN is showcasing a range of connectivity solutions that balance safety, convenience, and driving enjoyment, along with HARMAN's GreenEdge energy efficient audio solutions and HALOsonic technologies for electric vehicles during the Geneva Motor Show.
Using HARMAN's next-generation, scalable infotainment platform as the core, a number of networking and connectivity options have been integrated into the system to bring the youthful and social concept vehicle to life.

The infotainment head unit includes the full functionality of HARMAN's Aha Radio technology, which uses intuitive voice technologies and its patent-pending predictive search technology to help reduce the distractions of accessing online and social media content. The Aha Radio application translates text-based digital content to voice and plays it back within the car, making driving safer and more comfortable. With Aha Radio, drivers and passengers can monitor traffic, hear Twitter and Facebook updates, play podcasts from their favorite channels, or listen to streaming music via the Internet or satellite.

To realize the BamBoo's fun and social personality concept, HARMAN's infotainment system includes an integrated WiFi connection that connects the vehicle to the people and places around it via the Internet. HARMAN uses the most advanced data streaming protocols to allow the car to share digital music with those in and around the BamBoo. With the widest range of smartphone support, HARMAN will showcase seamless connectivity between Android-based smartphones and tablet computers from HTC Corporation and the HARMAN in-dash head unit. Information such as e-mails and SMS texts are seamlessly converted from text-to-speech, allowing drivers to keep their eyes on the road and hands on the wheel. And to ensure the fun doesn't stop in the driveway, HARMAN has included a wireless DLNA connection that connects the HARMAN in-dash system to a Harman Kardon home media player – literally keeping the music going wherever you are.
HARMAN audio technologies make the electrically-propelled BamBoo a model of 'ecotainment', delivering greater safety, energy efficiency, and enhanced driving enjoyment. The JBL GreenEdge surround sound audio system delivers with extraordinary energy efficiency without compromising the outstanding audio dynamics and excellent sound quality that JBL is known for. HARMAN-patented, high-efficiency speakers have been precisely matched with the digital amplifier to reduce the power requirement on the vehicle battery by over 60 percent, with a dramatically reduced system weight. HARMAN's infotainment system is also the central hub for the BamBoo energy management system, which precisely calculates the car's available range with energy efficient routing.
Furthermore, HARMAN's HALOsonic ESS Electronic Sound Synthesis technology generates engine noise or a driving sound to warn pedestrians of the approaching automobile. When operating in virtually silent electric mode, one front -mounted speaker emits an acoustic signal to warn pedestrians of the approaching vehicle. Inside the car, generated sound gives a sense of vehicle speed and acceleration. The system provides the driver with the accustomed acoustic feedback, even though the motor operates virtually without sound. "HARMAN has once again led the automotive industry by bringing our most advanced technologies to the forefront and creating a new lifestyle experience that mirrors the current social networking revolution," said Sachin Lawande, HARMAN Chief Technology Officer and Co-President, Automotive. "Our strengths in connectivity, safety, and "green" solutions are redefining how audio and electronics contribute to the character of a vehicle, while still exemplifying what HARMAN Automotive has gained a reputation for -- engineering excellence, audio performance, and innovative technology."